Transit
Buses and shuttles are free to UR and RIT card holders for the lines below; please swipe your ID card when boarding.
Questions/Comments:   585.275.5953 8-5pm M-F; For questions/concerns after 5:00 pm, please contact 1st Transit at 585.235.6670.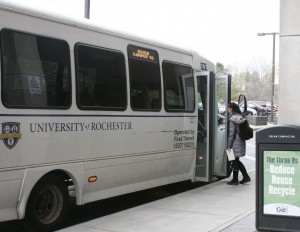 Track Our Buses On the Go!
Download Mobile App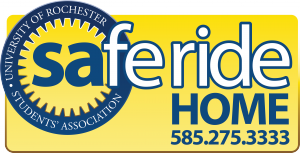 SAFE RIDE HOME 
Safe Ride Home Service between RC properties
and residences AFTER bus hours.  
 TRAILWAYS on Campus Departures & Arrivals!
(Syracuse-Binghamton-NYC; Utica-Albany-Boston)
Route 52 Park Ave to URMC (schedule)
RTS fares apply to ride this bus

Testimonial Videos:
Think About It!

How Convenient!
 
Why Park?
RTS - Rochester Transit Service (Schedules and Maps)
Buses DO NOT operate on University Holidays - There will be NO University
shuttle service on 12/25/13 due to the Christmas holiday.  Buses will
return to normal operations on Thur., 12/26.  Customers who park in Scottsville
Rd Lot or RPC Lot can park in the ramp garage, Lot 8 or Lot 3 on 12/25.
Goler House-Whipple Park van service will continue to operate during the
holiday.  For questions/concerns, please contact 275-5953. 

PLEASE NOTE:  There may be delays due to inclement winter weather and/or
current construction around the University
STUDENT BUS LINES
Winter Break Schedule
Effective 12/23-1/10/14

RED LINE - Eastman Living Center, River Campus
ORANGE LINE - Rush Rhees Library, East End, South Wedge, Eastman Living Center
GREEN LINE - (Sat, Sun, Tues & Wed ONLY) - River Campus, Marketplace Mall, Pittsford
Plaza, (Public Market-seasonal), Riverview/Brooks Landing, Walmart, Target, Regal Henrietta
(The Green Line Public Market route has ended for the season and will resume 3/8/14)
BLUE LINE - Whipple Park, River Road Buildings, Hospital, River Campus
SILVER LINE - Park Lot, Hopeman, Rush Rhees (7am-noon; 4pm-midnight)
GOLD LINE - Rush Rhees, 19th Ward
Gold Line Direct stops at Riverview Apts Bldg C ONLY, Rush Rhees Library, Brooks Landing
FACULTY/STAFF BUS LINES
CORPORATE WOODS - Corporate Woods, Lattimore Offices, Whipple Cir
NEW! - Corporate Woods Schedule - EFFECTIVE 12/2
CRVI - MRB, CVRI
RPC - RPC Loop, East D/Goler, Whipple Cir
SCOTTSVILLE ROAD - Scottsville Rd, MRB, East Dr/Goler,
STAFF SHUTTLE - Whipple Cir/Jackson Dr, SBH, 1,11,9,2,3, East Dr/Goler
NEW! Staff Shuttle Schedule - EFFECTIVE 12/9
East Drive Shuttle Stop Location Change
S1-GREECE EXPRESS (Park n' Ride) - MC/Highland Hosp
(normal RTS fares apply)

GENESEO-ROCHESTER WEEKEND SHUTTLE

RUSTIC VILLAGE RESIDENTS
MC/RC campuses via RTS bus #50 (click here for schedule)