New Operational Changes and Safety Requirements During COVID-19
Masking required:
Face masks covering the nose and mouth must be worn at all times by all passengers when waiting for the shuttle and when on the shuttle bus. Masks will be available on the bus for passengers who may not have one. Regardless of the number of riders on a particular shuttle, everyone must wear a mask.
Shuttle capacity:
The passenger limit on our shuttles has been reduced to 50% seating capacity (standing passengers will not be allowed). This will allow passengers to maintain distance from one another when riding our shuttles. When the shuttle reaches capacity, the driver will notify waiting riders and they will be asked to wait for the next shuttle.
Cleaning of our shuttles:
All shuttles are disinfected multiple times throughout the day to ensure hand rails and other commonly touched surfaces remain clean. All shuttles will be sanitized overnight. A hand sanitizer dispenser has been added to each shuttle bus. COVID-19 signage has also been placed on buses and shuttle stops.
Social Distancing:
Transportation and Parking requires that passengers maintain at least one empty seat between shuttle riders. To maintain social distancing, every other seat will be blocked off. Passengers should practice social distancing when possible. Passengers should not congregate when waiting for the shuttle.
Fall Schedules - Beginning Monday, August 17, 2020
Please read above section titled New Operational Changes and Safety Requirements During COVID-19 for our new policies regarding capacity and masks.
Shuttles will not operate on Monday, September 7, 2020 due to University holiday with the exception of the Green Line.

Pre-registration is required through CCC.
Blue Line  – the Blue Line runs between Whipple Park, Southside/University Park, Medical Center, Goler House/College Town, and River Campus
College Town Express – the College Town Express runs from the River Campus & Medical Center to College Town. The weekend service will be in operation this fall only, the weekday service has been temporarily discontinued.
Corporate Woods – the Corporate Woods shuttle offers convenient travel for meetings between the Medical Center, the Lattimore office building, Ronald McDonald House, and the Corporate Woods offices.
Evening Staff Shuttle – the Medical Center Staff Shuttle loops on weeknights between Golisano Children's Hospital Lower Loop, Whipple Circle, Mental Health & Wellness, and Lots 1, 11, 2/3, and 9, and 11
Gold Line – the Gold Line Riverview Direct is a weekday line that travels between Riverview Apartments, Brooks Crossing Apartments, and River Campus; the Gold Line 19th Ward operates nightly into the 19th Ward area and stops at Riverview & Brooks Crossing Apartments
Green Line – The Green Line is funded by the undergraduates and will have limited space due to current capacity restrictions. Pre-registration is required through CCC. Pickup at Rush Rhees Library, stops in Henrietta – International Food Market, Wegmans, Target, and Wal-Mart.
Orange Line – the Orange Line offers daily morning and evening service between River Campus to Downtown Housing (East Ave., Monroe Ave., Alexander St.); this shuttle stops at Eastman Living Center on weekends and after 6:30 pm weekdays
Red Line – the Red Line offers direct weekday service from Rush Rhees Library to Eastman Living Center weekdays (the Orange Line stops at Eastman after 6:30 p.m. and on weekends)
Scottsville Road – Lot 24 parkers can catch this shuttle between 5:28 a.m. and 9:30 p.m. Monday through Friday to travel to the Medical Center's School of Medicine and Dentistry stop (Update: Scottsville Rd. Lot reopened on August 3rd)
Silver Line – the Silver Line runs continuously weekdays between Zone 3 South, Wilmot, Intercampus Dr. at Library Rd., Towers, and Rush Rhees Library
Rides Are Free With Campus ID
All shuttles are free with a University ID so be ready to swipe your UR ID as you embark on your journey. Swiping helps ensure transportation services are meeting demand, and it supports a safe and secure environment for riders.
Where's My Shuttle?
Wonder no more… University shuttles are outfitted with real-time tracking equipment. Simply go to the DoubleMap site on your computer or smartphone, or download the free smartphone app to see the buses on a map. Live tracking, arrival predictions, and proximity alerts are also available for all University bus lines.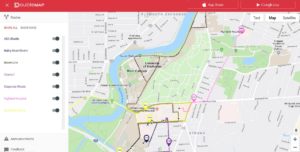 Take Your Wheels On The Shuttle
Shuttles are cycle-friendly. Most University Shuttles have racks on the front that hold up to two bicycles. If you wish to use the bike rack, signal the driver that you are going to the front of the bus. You're responsible for loading and unloading your bicycle but it's a convenient way to get around town when you need to, or want to add exercise to your commute. (See the Transportation and Parking's Bikes On Shuttles website for handy tips for loading and unloading your bicycle from a shuttle bus.)
Special Event Shuttle Service
Hosting or need to attend a group event? Bus charter services are available for any University-related event by a University department, organization, or event organizer. Buses can be booked for local or long distance travel. Round trip and continuous looping transportation is available for local travel. All non-coach transportation requests must be submitted with a minimum of 1 weeks' notice. All requests that are made with less than 1 weeks' notice will incur a $50 late booking fee. All requests for coach buses require a minimum of two months' notice. To request a charter bus, fill out the charter request form. River Campus and Eastman School of Music student organizations, please select your advisor when filling out the form.
For additional information, contact:
Tracey Austin (taustin7@parking.rochester.edu or 585.276.3946)
Additional Fees:
$50 cancellation fee
$100 on-site cancellation fee for Monroe Transportation buses
$170 on-site cancellation for First Transit/University buses
$100 clean-up fee, should a charter company find it necessary to clean the bus
Coach bus cancellation fees vary by company
Get started with the online Transportation Request Form.
We Appreciate Your Feedback
Questions/Comments
Monday -Friday
8:00 am -5:00 pm
585.275.4524
AFTER 5:00pm
Monday – Friday
585.235.6670
Buses DO NOT operate on University Holidays
Forgot something on a busline?
Call Lost/Found 585.235.6670