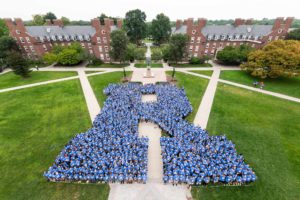 Special Event Parking Reservations & Payment
The University's latest event guidance calls for any in-person event on a University campus to be limited to 25 participants, or it must be canceled, postponed, or conducted virtually.
Hosting an Event?
If you are hosting an event at the Medical Center or River Campus, please  request event/visitor parking here.
For questions about event parking, our Event Coordinator can be reached by email or phone at  273-2140.
Fees and Payment
Guest parking can be paid by the:
Guest/visitor
Department via validations (Medical Center Lots only)  or FAO
Department FAO's will be charged at the end of the month using the account number provided on the reservation form
Parking Attendants
Parking attendants are available for mobile patrol, directing traffic, and staffing at gated lots and/or the Information Booth. There is a two-hour minimum for attendant services. Attendants will be on site 30 minutes prior to the event start time.
$45.00 per hour for each attendant (2 hour minimum)
$50.00 per hour for a Supervisor (2 hour minimum)
Traffic Control Equipment
The following options are available to help direct and manage parking for your guests. Please specify the location(s) where the equipment is needed and when they should be set up and removed.
Traffic Cones
Barricades
Generic Special Event Sandwich Board Signs
The Department maintains a limited number of generic  "Special Event" sign that are available for use—please do not attach additional wording or signs once they are in place. If the standard wording is not preferred, please contact our Special Events Coordinator at 275-6404 at least a month before your event to request a custom sign. The cost for a custom sign
(24 x 36 inches) is $125/per sign.
Cancellation
Events cancelled less than 48 hours in advance will be responsible for 50% of the event fee.  If event is cancelled on site, the full event fee will be charged. To cancel an event contact our Event Coordinator.
Special Event Parking Guidelines
– Medical Center
– River Campus
Need a Shuttle for Your Event?