Public Printing
The Event and Classroom Management (ECM) Public Computing Team acts as your first level of support for public printing in classrooms, labs, and libraries on River Campus.
Our services include:
Replenishing supplies (paper, wax, toner, etc.) in all public printing areas
Maintaining the release stations for public printers
Performing basic hardware support for public printers
Color and black and white printing is available in computer labs and at kiosks across the University. Prints are charged at a per-page rate to either a URos (Flex) account or Visitor account balance.

If you are experiencing an issue with the pay-for-print system, please call the ECM Help Desk at (585) 275-9014 or enter a ticket directly using the online service request form. After logging into Service Desk, select "RC Public Pay-For-Print Request" from the "General Action" drop-down.
All printers and multi-function devices supported by ECM are labeled accordingly to assist you in directing support to the proper location: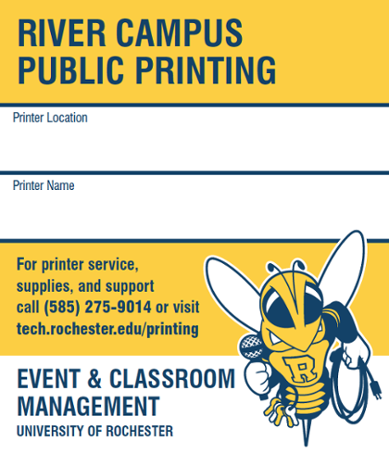 Please note that ECM only maintains the River Campus public pay-for-print system. For other printing support at the University of Rochester please refer to the contacts below with your inquiry.
Photocopier support - please follow the contact instructions on the device.
Public printing support at Miner Library in the Medical Center - please contact the Miner Library Computing Center Help Desk at (585) 275-6865 or email ccdesk@urmc.rochester.edu.
Printing anywhere else at the Medical Center - please contact the ISD Help Desk at (585) 275-3200 or email helpdesk_isd@urmc.rochester.edu.
Public printing at the Eastman School of Music - contact the Eastman School Help Desk at (585) 274-1160 or email ecshelp@esm.rochester.edu.
Non-pay-for-print devices on the River Campus - contact the University IT Help Desk at (585) 275-2000 or your departmental desktop support staff directly.