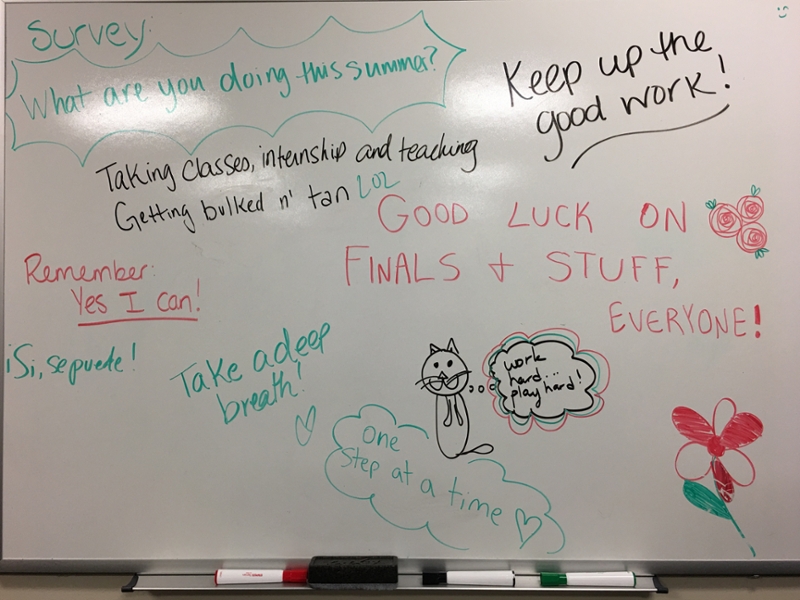 The Study Zone: a new format designed to help students flourish academically
About the Study Zone
The Study Zone program first opened in the Spring of 2018, and it has been serving the studying needs of students ever since! This comfortable place provides low-key support to help students make real progress on their academic work during each visit. Becoming distracted, getting stuck, and being short on time are all common obstacles to success. By providing a productive location, personal support, and even snacks, this informal study location will help students get past common barriers to studying and turn academic goals into reality. 
The Study Zone is located within the Center for Excellence in Teaching and Learning (CETL), and is also sponsored by the College Center for Advising Services (CCAS) and the Writing, Speaking, and Argument Program (WSAP).
Using the Study Zone
The Study Zone offers a new form of support. When students arrive, peer leaders are there to help them make an individual plan for that study session. Once they get down to work, the peer leaders will be available to check in and to help with staying focused and on track. The Study Zone is also the perfect place to connect with additional academic resources like the Tutoring Zone and CETL's Study Skills Consultants. At the end of each study session, one of the peer leaders will guide the reflection about that day's progress and the plan for the next session.
For the 2020-2021 academic year, the Study Zone is available virtually through Zoom! The Study Zone leaders provide the same support without you needing to make the trip across campus or leave your study location of choice. Remote students or on-campus students who prefer Zoom can also join the Virtual Study Zone Camaraderie List to let others know they are not alone in their commitment to studying even from far away. Ask us about joining the Virtual Study Zone community today!
Be part of the Study Zone!
Enrollment is open for the Spring 2021 Study Zone cohort. When enrolling in this program, you make a commitment to spend at least three hours in the Study Zone each week. The Study Zone is free of cost for enrolled students, and students admitted to this program can spend as much time as they find productive in this space whenever it is open. Applicants will be offered a spot on a first-come, first-served basis. Any student can take part in the Study Zone program, including upperclassmen and even graduate students! Fill out the online application to apply. If you have questions or would like more information, please email studyzone@rochester.edu.