Get connected in, around, and between campuses when you get a ride on the University's shuttle fleet. Convenience and gas savings abound with the ten shuttle lines available to get you to and from UR and URMC destinations.
Summer Shuttle Schedules
SUMMER BREAK SCHEDULE – Beginning Monday, May 18, the Orange and Blue lines will run on a limited, combination schedule through Friday, August 21
CORPORATE WOODS – running every 30 minutes from 7:15 a.m. to 6 p.m. Monday through Friday, the Corporate Woods shuttle offers convenient travel for meetings between the Medical Center (Whipple Circle), the Lattimore office building, Corporate Woods offices (Buildings 30, 120, and 155), and Rustic Village
STAFF SHUTTLE – this Medical Center line for late shift workers loops between Whipple Circle, Strong Behavioral Health, and Lots 1, 2/3, 9, and 11 from 5:30 p.m. to 1:10 a.m. Monday through Friday. (After 9 p.m., a stop at Jackson Drive's main hospital entrance substitutes for Whipple Circle.)
SUMMER SHOPPING SHUTTLE – this shopping bus line is sponsored by the International Services Office & Simon Business School; operating on Tuesdays, Thursdays, and Saturdays; beginning on Tuesday, July 28th and ending Thursday, August 20th

Parking-Only Shuttles
For those who park away from the Medical Center, there are dedicated shuttles for those remote lot permit holders.
SCOTTSVILLE ROAD – Lot 24 parkers can catch this shuttle between 5:28 a.m. and 9:30 p.m. Monday through Friday to travel to the Medical Center's School of Medicine and Dentistry or East Drive and Goler House stops.
Rides Are Free With Campus ID
All shuttles are free with a University ID so be ready to swipe your UR ID as you embark on your journey. Swiping helps ensure transportation services are meeting demand, and it supports a safe and secure environment for riders.
Where's My Shuttle?
Wonder no more… University shuttles are outfitted with real-time tracking equipment. Simply go to the Transloc site on your computer or smartphone, or download the free smartphone app to see the buses on a map. Live tracking, arrival predictions, and proximity alerts are also available for all University bus lines.
Take Your Wheels On The Shuttle
Shuttles are cycle-friendly. Most University Shuttles have racks on the front that hold up to two bicycles. If you wish to use the bike rack, signal the driver that you are going to the front of the bus. You're responsible for loading and unloading your bicycle but it's a convenient way to get around town when you need to, or want to add exercise to your commute. (See the Transportation and Parking's Bikes On Shuttles website for handy tips for loading and unloading your bicycle from a shuttle bus.)
Trailways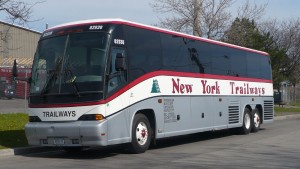 Going Home?
Exclusive on campus departures and arrivals. Low fares to get you home every weekend.
Safe . Dependable . Comfortable
Wifi available and plug-ins for devises
Purchase tickets online at www.trailwaysny.com or www.greyhound.com
(must print e-ticket in order to board the bus)
Syracuse – Binghamton – NYC
Utica – Albany – Boston
Special Event Shuttle Service
Hosting or need to attend a group event? Charter services are available for local and long-distance travel. Find more information or get started with the online Transportation Request Form.
We Appreciate Your Feedback
Questions/Comments
Monday -Friday
8:00 am -5:00 pm
585.275.5953
AFTER 5:00pm
Monday – Friday
585.235.6670
Buses DO NOT operate on University Holidays
Forgot something on a busline?
Call Lost/Found 585.235.6670
Transportation Coordinator

Andrea Walton
P: 585.275.5953
E: awalton@parking.rochester.edu