Fraternity/Sorority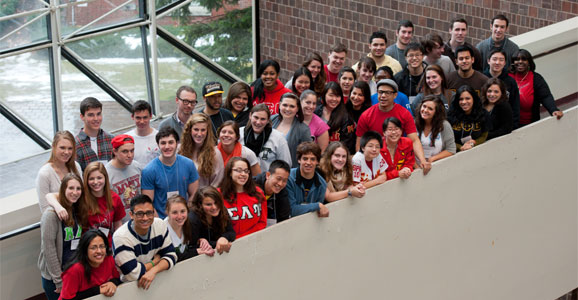 Fraternity and Sorority Affairs holds its annual Archon Challenge (leadership day for Greek student leaders).
The individual missions and goals of each sorority and fraternity are similar: to give men and women an environment supporting academic studies, achievement, socialization, leadership, and learning. Lifelong friendships, leadership training, recreation, and social skill development are a few of the benefits of Greek-letter involvement. The opportunity for intellectual and personal growth through participation in Greek organizations is endorsed and nurtured by the College through recognition of such educational living groups.
Quick facts about fraternity and sorority membership at the University of Rochester:
Approximately 22 percent of students belong to Greek-letter organizations
Students have the option of living in chapter houses or special interest residential areas after the freshman year
Six of eleven sororities and ten of seventeen fraternities have living areas on River Campus
Membership ranges from one person (part of multi-university chapters) to groups of 50 or more
Each year fraternities and sororities sponsor formal recruitment. This is an organized time for individuals who may be interested in Greek life to meet with members of the chapters to learn what benefits are afforded by Greek affiliation.
Freshmen are not allowed to participate in recruitment until spring term. Some Greek-letter organizations continue informal membership recruitment programs throughout the year.
Related resources:
Contact
For more information, contact:
Fraternity and Sorority Affairs
510 Wilson Commons
University of Rochester
P.O. Box 270443
Rochester, New York 14627-0443
(585) 275-3167
(585) 506-0151 (fax)
www.rochester.edu/college/fsa/