Jackson Court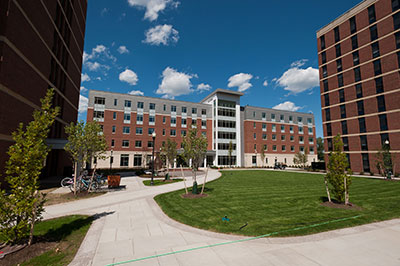 Jackson Court is an upperclassmen housing facility located along Wilson Boulevard. Jackson Court has two towers, the Anderson and Wilder Towers, which are co-ed suite-style residences, each with nine floors. Combined, the towers total occupancy is 668 students, with a singles, doubles, and suites.
O'Brien Hall also forms part of the Jackson Court Area. It is a Gold LEED-certified building, meaning it was built with sustainability and conservation as an ideal. O'Brien is a co-ed residence with five floors. The total occupancy is about 120 students, with either singles or doubles available. Each floor has three bathrooms and the first floor has a meeting room, music practice room, and a dance studio that can be reserved.
Anderson Tower was built in 1962 and is named for Martin Brewer Anderson, the University's first president, who served from 1853 until 1888 and was a member of the Board of Trustees from 1887 until his death.
Across Jackson Court is Anderson's sister building, Wilder Tower. Also built in 1962, it was named for John Nichols Wilder, who was the University's first chairman of the Board of Trustees from 1850 to 1858. Wilder declined the University presidency for business reasons, but played an important role in its early years.
Between them is O'Brien Hall, which was built in 2012 and named for Dennis O'Brien, the University's ninth president, who served from 1989 to 1996. O'Brien laid the groundwork for President Jackson's Renaissance plan. 
President Jackson, for whom the area was dedicated, was the tenth president of the University, serving from 1996–2005. Jackson was known for establishing the Renaissance plan, in which the class size was reduced and selectivity was increased. The idea was that students and the campus would benefit from a higher standard of student acceptance.
Jackson Court Resources
Students interested in living in Jackson Court can use the following resources to help make their decision: