Southside Living Area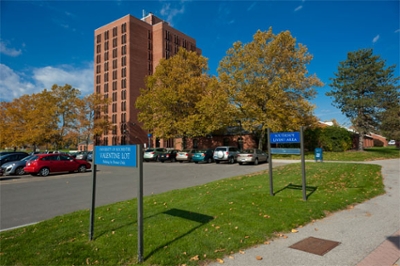 Valentine and deKiewiet towers offer unique accommodations, including private bedrooms in two- and three-bedroom apartments with full kitchens and a bathroom. Southside has a total occupancy of 452 students. The laundry facilities are in the basements of Valentine and deKiewiet Towers, as is a University Corner Store that offers snacks, beverages, and food items for cooking.
Valentine and deKiewiet towers were built in 1965 and are named after presidents Alan Valentine (1901–1980) and Cornelis deKiewiet (1951–1961). The surrounding Maisonettes used to be graduate housing apartments, but now are part of the upperclassmen residence that is located at the southside of campus. 
Southside Living Area Resources
Students interested in living in Southside can use the following resources to help make their decision: