Health Promotion Office
Mindfulness & Meditation
More mindful. Less stressed. Better sleep. Less self-judgement.
Mindfulness & Meditation is a 4-week workshop where you will cultivate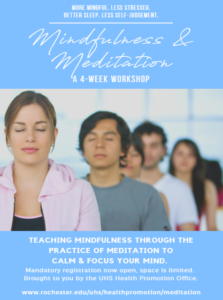 mindfulness and meditation skills. Through learning how to be more mindful, you may experience less stress, better sleep and less self-judgment. Beyond simply decreasing your stress, this course offers approaches and skills to help you find more satisfaction in your daily life.
The course, consisting of four classes, is designed to help you learn mindfulness through the practice of meditation which can calm and focus your mind. If you are feeling pressured and stressed, or just interested in learning a new skill that can enrich your life, this workshop are for you!
Mindfulness & Meditation is guided by an evidence-based mindfulness program from Duke University developed specifically for college students. When you join, you'll commit to four 75-minute sessions that take place once per week for four consecutive weeks. Each session will have approximately 10 students.
Meet Our Facilitators
Amy Nadelen, Senior Health Educator in the UHS Health Promotion Office
Emily Kumpf, Health Policy / Psychology, Class of 2019
When will it be held?
Thursdays from 3:00 – 4:15 pm. New sessions begin 3/7 and 4/4
Fridays from 11:00 – 12:15 pm. New sessions begin 2/1 and 3/1
Where is the classroom?
University Health Service Building, 2nd floor, Room 220
What is required for class?
The Mindful Twenty-Something by Holly Rogers (the electronic version of the book is available for free from the library.)
Yoga mats, yoga blocks, and meditation cushions will be provided. However, you may want to bring a small blanket or scarf and wear comfortable clothing.
How do I sign up?
To reserve your spot, please complete our registration form. Registration is required in order to participate in the workshop.
Attendance at all four sessions is required because students see the most benefit from the course when they attend all four sessions. Class is limited to 20 students and registration is on a first-come, first-served basis. You will receive a welcome email with further instructions after completing registration.