Homepage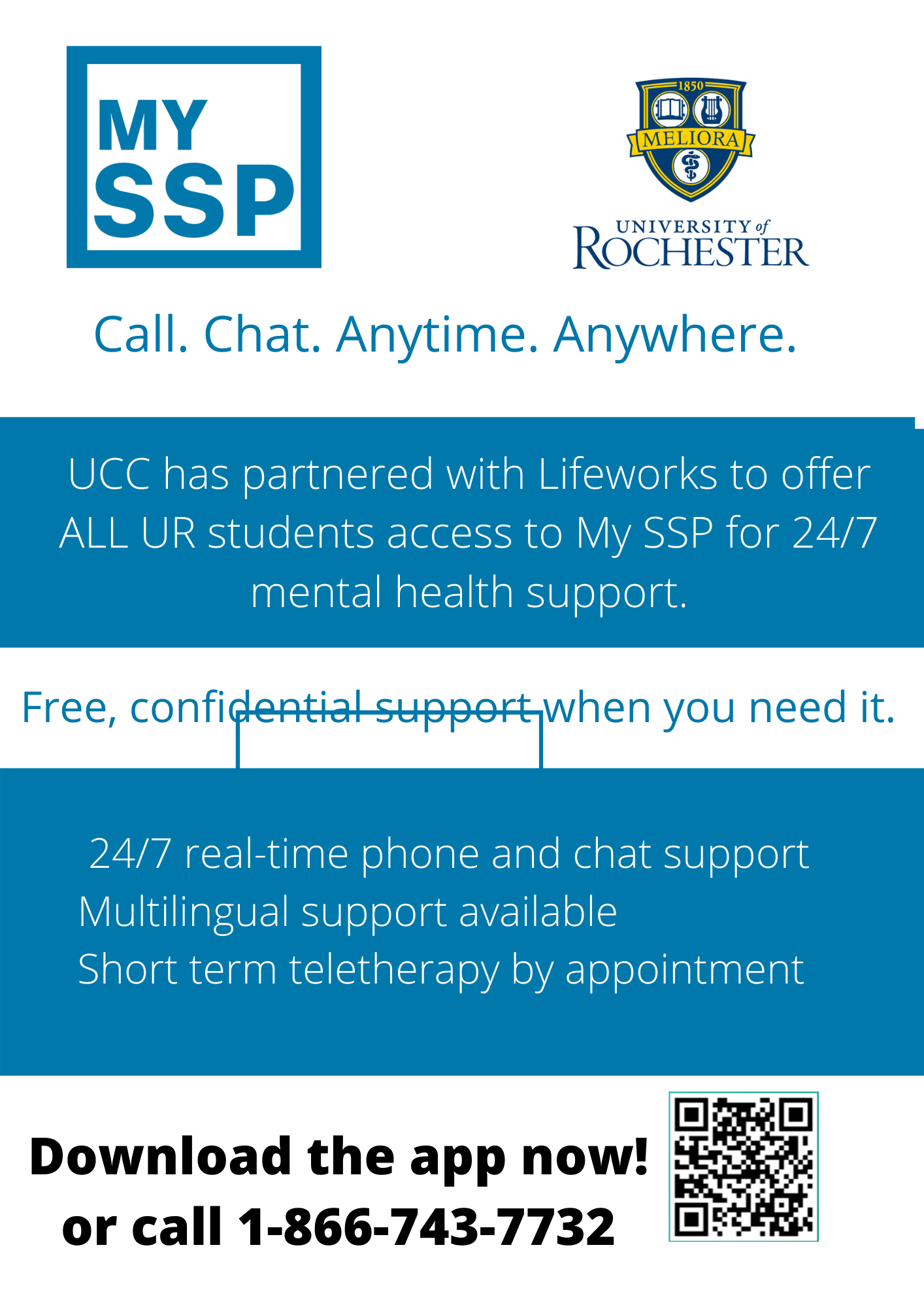 New Free, Confidential Mental Health Support
UCC is partnering with Lifeworks to expand coverage for mental health support for students. The My Student Support Program (My SSP) is a 24/7 free and confidential remote service that includes:
Real-time chat and phone support available 24 hours a day, 7 days a week (no appointment needed)
Short-term scheduled support available via phone or video (call to set up initial appointment)
Connection with a professional counselor
Access to virtual fitness sessions, articles, podcasts, and more
Students can download the My SSP app from the App Store or Google Play, visit the My SSP website, or call 866-743-7732 (outside US or Canada, call 001-416-380-6578).
UCC will continue to offer all their current services: initial assessments, short term therapy, group therapy, case management, after hours on-call and in person Counselor in Residence emergency response for students on campus. Adding on the My SSP program is in recognition of the growing needs of students and the desire to be sure everyone can access the care they need.
Learn More
Announcements
Warning: Internship Phishing Scam
If you receive an email advertising an internship from AHEAD, the Disability Resource Center (DRC), or the Department of Disability Resources and Educational Services (DRES), please forward it to abuse@rochester.edu as this is a phishing scam.
Resources for Students with Accommodations
We know that the impacts of COVID-19 have changed the way you learn and study, and we are pleased to announce that we have some new resources to support you during the fall and spring semesters. Learn more on our Resources page.
Zoom Captioning Feature
Zoom has an auto-transcription/captioning feature built in using artificial intelligence. Download our tip sheet (Word).
---
---