Homepage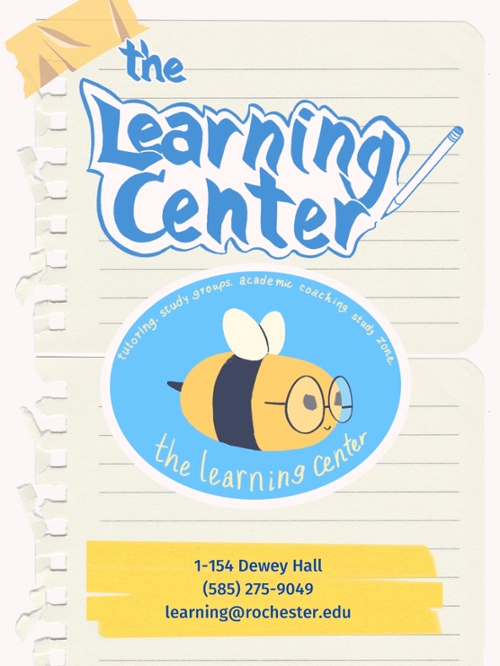 The Learning Center (TLC) Resources
Formerly a part of CETL, The Learning Center (TLC) is an excellent resource for students!

Tutoring
Peer tutoring for undergrads in a wide selection of courses in the College of Arts, Sciences, and Engineering (AS&E).

Study Groups
A weekly opportunity to study collaboratively with classmates under the guidance of an upper-level undergrad leader who previously did well in the same course.

Academic Coaching
One-on-one coaching to improve students' academic performance and efficiency. Discuss study skills, academic concerns, and learning techniques.

Study Zone
A quiet, low-distraction place to work, located within The Learning Center. Enroll now.

TLC Website
1-154 Dewey Hall
(585) 275-9049
learning@rochester.edu
Learn More
Announcements
Warning: Internship Phishing Scam
If you receive an email advertising an internship from AHEAD, the Disability Resource Center (DRC), or the Department of Disability Resources and Educational Services (DRES), please forward it to abuse@rochester.edu as this is a phishing scam.
Zoom Captioning Feature
Zoom has an auto-transcription/captioning feature built in using artificial intelligence. Download our tip sheet (Word).
---
---