Health Promotion Office
EAT Mindfully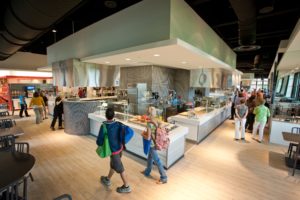 "It's so hard to eat healthy on campus" is probably a phrase that most students have said at least once after arriving to college. It can certainly be a big adjustment, especially if you're used to mom or dad planning meals for you, or if you're a "picky eater", or if American food is different than your home cuisine.
Upper class students face different challenges, such as meal plans with more declining and less swipes, navigating the grocery store or Hillside POD to purchase food, or planning and preparing meals on their own perhaps for the first time.
But learning a few secrets to healthy eating on campus could help many students quickly change their dietary dilemmas. Some strategies may take a little investment in time and energy, and others may take some thoughtful planning, but if you're committed to the change, it will all be worth it in the end.
Program Details
Our online program provides students with practical tips and strategies to cultivate a healthier relationship with food. The 21-day program includes:
Three comprehensive educational email modules:

College Nutrition 101 Module – includes tips to fit in more fruits and veggies and how to build balanced snacks.
College Nutrition 102 Module – insider strategies to better navigate the dining halls and prepare healthy meals.
Mindful Eating Module – making time for meals, paying attention to your hunger cues, and mindful eating practices.

Six "challenge yourself" emails with quick strategies to try.
Menu planner and other helpful tracking tools.
Comprehensive campus resource guide for additional nutrition and diet support.
Registration for this online program is open all year and students can begin any time. To sign up, visit our registration page. Upon registration you will receive an email to complete a brief nutrition questionnaire. After that, participants will benefit from motivational quick tips (sent approximately every three days) and educational emails (sent once per week).