Health Promotion Office
Relationships and Sex
Sexual health is much more than just S-E-X. A comprehensive sexual health program for the college population should address many facets of sexuality, including:
Safe sexual practices
Sexuality
Contraception
Intimate relationships
Communication
Consent
Sexual orientation and identity
According to the 2017 National College Health Assessment, 61% of University of Rochester students had at least one sexual partner within the last 12 months. But of those sexually active students, only about 50% used a condom during intercourse, and almost 20% of sexually active female students used emergency contraception within the last 12 months. Plus, when it comes to navigating intimate relationships, students often struggle, with 30% indicating that an intimate relationship has been traumatic or very difficult for them to handle.
As a result, the Health Promotion Office aims to create an open, supportive culture where students feel safe learning about and exploring what sexuality means to them.
---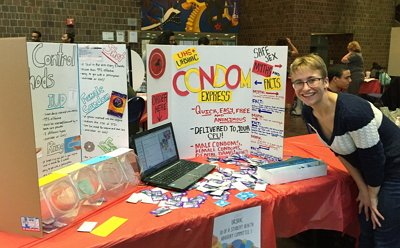 Safe Sex Express
What is the Safe Sex Express?
The Safe Sex Express (formerly known as the Condom Express) is a program that delivers safer sex supplies and information to Rochester students' CMC boxes. The program was created by students on the UR Student Health Advisory Committee (URSHAC) in the spring of 2015. Since then the Express has made over 1200 deliveries!
Any Rochester student can place an order using our request form. Options include:
External condoms (AKA male condoms)
Internal condoms (AKA female condoms)
Water-based lubricant
Dental dams
---
Sex & Chocolate Fair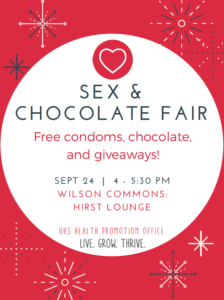 Free condoms, chocolate, and giveaways! We are excited to announce that the UHS Health Promotion Office's annual Sex and Chocolate Fair will be September 24th from 4-5:30 in Hirst Lounge (located on the main floor of Wilson Commons).
This sexual wellness fair brings together multiple campus resources, student groups, and community organizations to educate about safe sexual practices.
Groups will include UHS, UCC, Planned Parenthood, Active Minds, Trillium Health, Willow Domestic Violence Center, and many others. Come join these organization for interactive sexual health activities and chocolate! The first 150 attendees will receive a welcome bag with extra giveaways!
---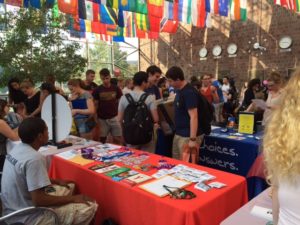 UR Sex Week
UR Sex Week strives to empower Rochester students to explore all of the important aspects of sexual health, from sexual identities to consent.
After a pilot program in April 2017, the first official UR Sex Week kicked off on September 25, 2017. It featured lectures, panels, and conversations, along with the popular Sex in the Dark program, where a panel of UR "sexperts" answer students' deepest, darkest questions about sex, sexuality, and relationships. (Glow sticks provided!). 

The third annual UR Sex Week is set to kick off on November 5th! Get all the details…