Health Promotion Office
Relationships and Sex
Sexual health is much more than just S-E-X. A comprehensive sexual health program for the college population should address many facets of sexuality, including:
Safe sexual practices
Sexuality
Contraception
Intimate relationships
Communication
Consent
Sexual orientation and identity
According to the 2020 National College Health Assessment, 48% of students have engaged in vaginal intercourse, and 54% of students have engaged in oral sex in the past 12 months. But of those sexually active students, only about 40% used a condom during vaginal intercourse, and almost 15% of sexually active female students used emergency contraception within the last 12 months. Plus, when it comes to navigating intimate relationships, students often struggle, with 30% indicating that an intimate relationship has caused them a high amount of distress.
As a result, the Health Promotion Office aims to create an open, supportive culture where students feel safe learning about and exploring what sexuality means to them.
---
Safe Sex Express
What is the Safe Sex Express?
The Safe Sex Express is a program that delivers safer sex supplies and information to Rochester students' CMC boxes. The program was created by students on the UR Student Health Advisory Committee (URSHAC) in the spring of 2015. Since then the Express has made over 2500 deliveries!
Any Rochester student can place an order using our request form. Options include:
External condoms (AKA male condoms)
Internal condoms (AKA female condoms)
Water-based lubricant
Dental dams
Finger cots
---
Ask the Sexperts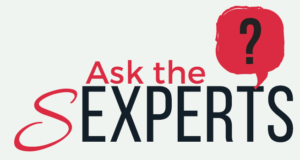 Have questions about sexual health, pleasure, sexuality, and hooking up? The Sexperts are here to have honest and inclusive discussions about it all.
We recognize that many of our students face difficult decisions about sex, and sometimes it's hard to know who to turn to for answers and advice. In this program, no questions are off limits!
Our Sexperts are a group of trained Peer Health Advocate interns who aim to teach and inform their peers about sexual health, reproductive health, and community resources.
---
Sex & Chocolate Fair
Fall Semester ~ Wilson Commons, Hirst Lounge
Free condoms, chocolate, and giveaways! Every fall the UHS Health Promotion Office's hosts the Sex and Chocolate Fair in Hirst Lounge in Wilson Commons.
This sexual wellness fair brings together multiple campus resources, student groups, and community organizations to educate about safe sexual practices.
Groups will include UHS, UCC, Planned Parenthood, Active Minds, Trillium Health, Willow Domestic Violence Center, and many others. Come join these organization for interactive sexual health activities and chocolate! The first 150 attendees will receive a welcome bag with extra giveaways!
---
Sex in the Dark
Fall Semester ~ Hoyt Auditorium
A panel of UR Sex Experts answer all of your deepest, darkest questions about sex and relationships … in the dark! Come early to visit our engaging educational tables: What Size am I?, Lubrication Station, All About Sex Toys, and Turning on to Vagina & Penis Health. Then decorate yourself with glow sticks and head in for the show! Panelists from the fall 2019 program included:
Dr. Marie-Joelle Estrada, Department of  Psychology
Ellen Muldoon, Willow
Tiffany Street, Title IX Office
Nic Hesse (a 2019 alum!), Trillium