Office of Human Resources
Training
Organizational Development and Staff Diversity
The Office of Organizational Development and Staff Diversity (ODSD) supports the overall HR Mission in achieving organizational effectiveness as well as development of programs and initiatives that foster a more diverse and inclusive environment. Our efforts and resources are concentrated in areas and programs that have a direct correlation to overall University-wide needs as identified by senior leadership.
Organizational Development
ODSD's Organization Development Consultants, in concert with a department's Human Resources Business Partner (HRBP), work directly with leadership and front-line managers to create a quality work environment through focused interventions, customized training sessions in support of those focused interventions, and system redesign. Training (both online and classroom) is also available on numerous subjects to assist staff members in becoming more proficient in their job roles.
Staff Diversity
The Staff Diversity and Inclusion strategy includes recruitment activities, retention, and training and development programs that foster inclusion and community engagement. Recruitment activities focus on the goal of creating a more diverse professional workforce as well as developing future healthcare practitioners and leaders.
Training and development programs provide opportunities for staff (and faculty) to explore and discuss issues related to diversity, inclusion and cultural competence. These efforts support the internal development of staff in the areas of career advancement and increase commitment to the University as well as the celebration of our diverse work force. Community engagement activities provide opportunities for networking and recruitment, as well as enhancing the community's perception of the University.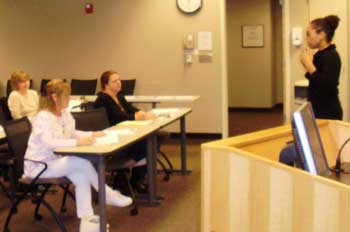 Educational Offerings
Classes address ways to reduce homophobia and heterosexism to make our institution a safer and freer environment for all members of our community.
Courses offered via Blackboard online platform
Contact Organizational Development and Staff Diversity