Programs
LiDA Colloquium Series
This series is open to the public – so please join us!
Each 1.5 hour session aims at engaging participants in informed conversations about a topic of common interest, stimulated by a presentation/ panel discussion. All events are highly interactive.
All sessions are held 3-4:30pm on Thursday in the Genrich-Rusling Room (LeChase 215).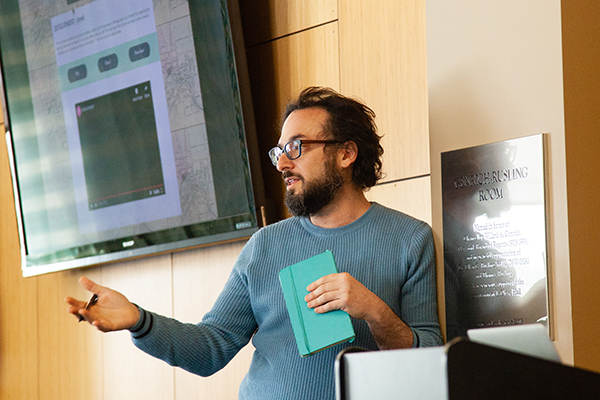 The program for Fall 2019 is as follows – for more information, check out each session's announcement; Powerpoints and/or Padlets created for each session will also be posted when available:
September 19: Sharing & Networking about Current LiDA Initiatives
As it has been our tradition, we start with an invitation to anyone in the LiDA Community to briefly share about their current work and interests, with the goal of fostering collaborations and synergy for the coming year.  Time will be set aside for informal networking as well.
October 3: How Are Disruptive Technologies Affecting Higher Education?
The growth of online education and MOOCs led to dire predictions for traditional higher education institutions.   These prediction have not been realized – yet!  Why?  How are research universities in particular responding to the threats and opportunities presented by potentially disruptive technologies?
November 21: How Are Digital Technologies Redefining the Goals of K-16 Education?
Advances in technologies are continuously changing the job opportunities available to our current students, and have also impacted the knowledge, skills and mindsets our students need to be successful in this ever-changing environment, where access to information and data is easy and fast. Are we preparing our K-16 students adequately to this reality? What preparation do they really need in order to be successful?
Announcement
Related campus-wide event co-sponsored by the LiDA Center in Fall 2019:
University of Rochester Faculty Summit 2019 : Teaching and Learning with Technology
Wednesday October 30, 2019, noon-4 pm